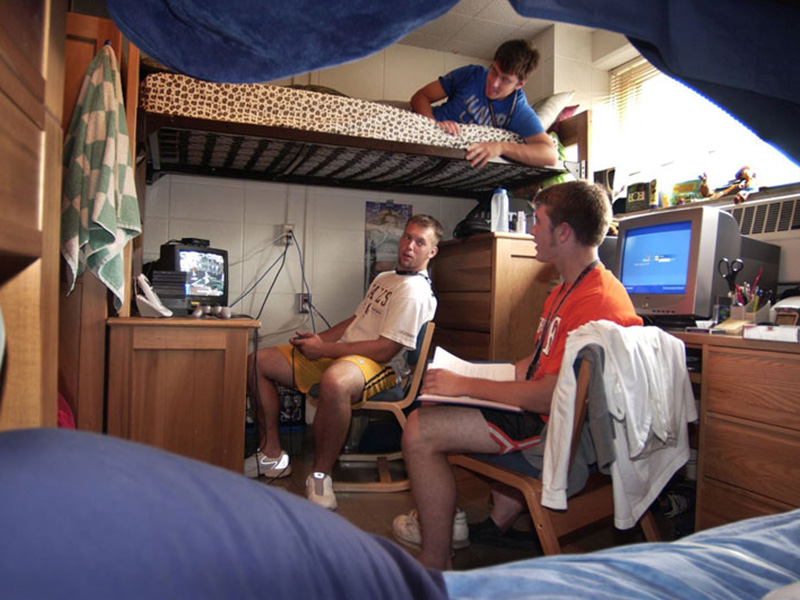 The survey shows that living in a dorm in your first year of study gives you better academic prospects. Using all the facilities, including libraries, computer labs and study halls, bring only benefits.  And spending your first year on campus seems to be a great idea. Of course, there are some downsides in a dorm life such as a noise or annoying dorm neighbors. However, if you learn to cope with them, you are up to an awesome year in college.
Dorm life tips
Dorm rooms may be various from college to college. Sometimes they might resemble prison cells with painted walls and lonely mattress, and sometimes it's a luxurious suite with a personal shower. Besides, if you want some special college dorm rules, do your research on dorms that provide accommodation to single-sex students who are all freshers. Anyway, it's an important thing to consider when doing any research on your college.
Adaptation to the noise is a very significant point when living in a dorm, so you will have to learn to cope with it. If quiet times or silent places are not regulated by college dorm rules, it is your problem to find a place for studying in peace and quiet. However, you may also create a set of rules with your roommate, regulating entertainment and a lull period, Suggest the open-closed door policy and makeout marathons with girlfriends/boyfriends.
Every dorm has a set of rules and safety tips for students to follow. Usually, they include alcohol ban, fire hazards ban, weapons ban, and some others. Before doing something extraordinary in your dorm room always have a look at the dorm regulations to avoid any embarrassment or trouble.
One more concern is security. Although campuses are usually well watched over, your dorm room may become a target for local kleptomaniacs. So, always lock your room and consider buying a diversion safe.
The last but not least – your roommates and dorm mates. Those are the people you have to live and coexist with for at least a year, so, if you have a real problem with your roommate or someone in your dorm, do not hesitate to report a problem to your RA, so your life does not turn into hell.
---